Many of the water providers in the Sacramento region provide rebates for customers to upgrade older fixtures and appliances with newer more efficient models. For example, rebates can be offered for the replacement of toilets and clothes washers as well as the purchase of a smart irrigation controller. Smart irrigation controllers manage how much water is being used to water a landscape based on current temperature and rainfall. Depending on the weather, controllers automatically adjust watering times to make sure the appropriate amount of water is being used to keep your landscape healthy and beautiful. In addition several water providers offer payment for the replacement of lawn/grass with native/low water use vegetation. This type of program is commonly called a "Cash for Grass" program. Every water provider offers a unique set of rebates to their customers.
How rebates generally work:
Contact your water provider.
Ask what rebates are available.
Confirm that your fixtures, appliances or property is eligible.
Purchase and install approved fixture, appliance, equipment or native/low water use vegetation.
Submit receipt/documentation of purchase to water provider for reimbursement. (Note: Reimbursement process and documentation of installation varies by water provider.)
Continue to save water!
Want to get started? Click on the link below, identify your water provider, check what rebates are offered in your service area and then use the contact information provided to find out how to participant.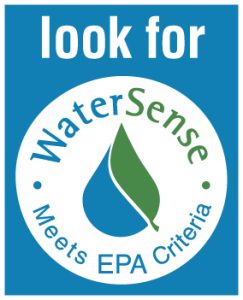 Find out what rebates are offered in your service area.
Not sure, who your water provider is, find out here.
Learn about WaterSense products here
Why should I replace my toilet?
Toilets account for more than 25% of all indoor water use. Toilets manufactured before 1992 use 3.5 to 7 gallons per flush (gpf) or between 17,000 and 34,000 gallons per year. By replacing your 3.5 gpf or greater toilet with a 1.28 gpf High Efficiency Toilet (HET) toilet, a family can save approximately 17,000 gallons per year. We recommend purchasing a WaterSense toilet. WaterSense toilets are third party tested to ensure performance while saving water.
Customers of participating water providers are eligible to receive up to $175 rebate for replacing a 3.5 gallon per flush (gpf) or greater toilet with a new High Efficiency Toilet (HET) which flushes 1.28 gpf or less. Rebate levels depend on the water provider and funding available. Call your water provider to determine your rebate eligibility and amount of rebate.
Why should I replace my clothes washer?
Clothes washers account for about 20% of all indoor water use. How many loads do you do a year? The average family does 300 loads of laundry. That's about 12,000 gallons a year! If you wash clothes in hot or warm water, you are also using additional energy. Participating water providers are offering rebates from $50 to $125 to residential customers who purchase and install a new, qualifying high-efficiency clothes washer. More money may also be available from your energy provider. We recommend purchasing an ENERGYSTAR certified clothes washer. ENERGYSTAR clothes washers use 20% less energy and 35% less water than less efficient models. If you want to save the most energy, look for the ENERGY STAR Most Efficient models. Now you can save water, energy and money, and get cash back as well.
Water Wise House Calls
A Water-Wise House Call is a free, at-home consultation for customers with tailored information on how to use less water in the home and the landscape. Performed by trained water efficiency professionals, this service typically takes about one hour and includes the following:
Indoors
Check all appliances and plumbing fixtures for water leaks
Measure the flow rate of faucets and showerheads
Outdoors
Test irrigation system and look for leaks or broken sprinkler heads
Record water pressure and troubleshoot complete irrigation system
Locate meter and irrigation controller if applicable
Create a custom watering schedule
Before leaving the property:
Explain to homeowner or property manager the findings and recommendations
Provide training, if applicable, on how to use irrigation controller
Discuss rebate opportunities
To request a Water Wise House Call, contact your water provider.
Green Gardener at Home Training Program
The Green Gardener At Home Training Program is a ten-week series of classes that provides residents with a foundation of knowledge and training on the following topics:
Introduction to River-Friendly Landscaping
Introduction to Soils
Compost and Mulch
Irrigation
Landscape Design
Right Plant, Right Place
Edible Gardens
Integrated Pest Management (IPM)
Pruning for Plant Health
Lawn Care