The average household (3 people) in the Sacramento region uses about 304 gallons a day.  Typically 55% or about 167 gallons of a household's water is used outdoors leaving about 45% or about 137 gallons for indoor use.  How do you use water at home?  Are you overwatering your lawn?  How do you know you are overwatering? What activity uses the most water indoors?  (Hint-look to your right.)  We all use water every day. Think about how you use water and use the tips below to see if you can use water even more efficiently. Little actions every day came make BIG impacts for our region.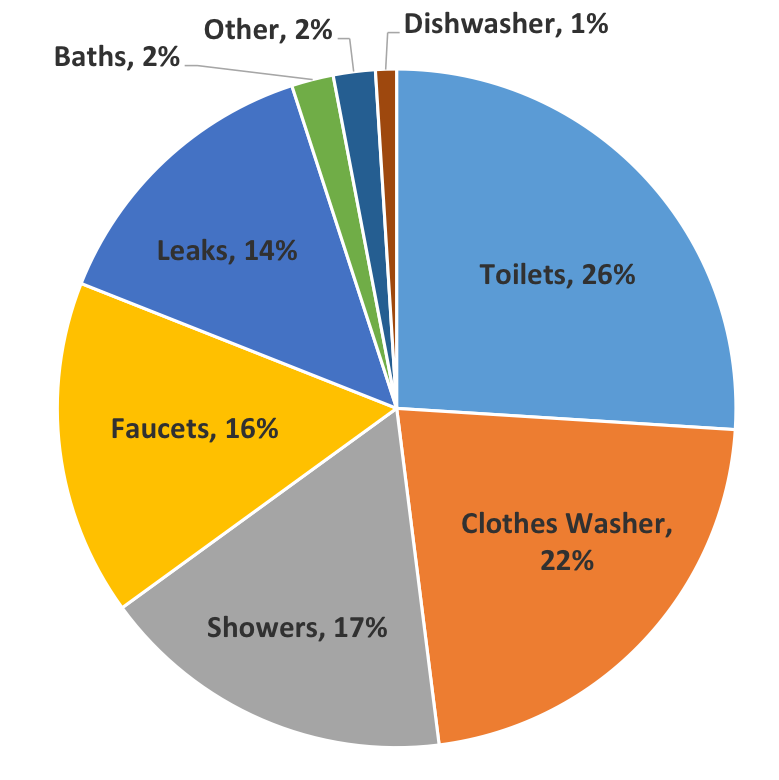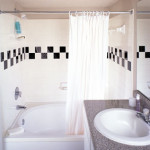 INDOORS
1. Install high efficiency toilets and clothes washers
High-efficiency WaterSense-labeled high efficiency toilet
These toilets use 1.28 gallons or less per flush compared to older toilets that could use 3.5-7 gallons per flush.
Save 19 gallons per person per day.
You can find a WaterSense-labeled high efficiency toilet at most hardware and home improvement stores for the same cost as a regular toilet.
Some water agencies will pay you money to replace your toilet.  Check here for rebates in your area.
Already have a high efficiency toilet? Consider following the "If it's yellow, let it mellow.  If it's brown, flush it down" to save additional water by minimizing flushes.
Also don't use the toilet as a waste basket.
Energy efficient ENERGY STAR-certified clothes washer
Save 15 gallons per load.
The average top loading clothes washer uses 30-40 gallons per load.
If you use hot water, you are using energy too.
ENERGY STAR certified clothes washers use 20% less energy and 35% less water than regular clothes washers.
Always wash full loads of laundry.
2. Take 5 minute shower instead of 10 minute shower
Save 12.5 gallons with a standard showerhead. (2.5 gallons per minute)
Save even more with a water efficient showerhead.  Upgrade your bathroom with a WaterSense-labeled water efficient showerhead.
Make a 5 minute song mix playlist to use while in the shower.  The music stops, time to turn off the water.  Suggested songs into include:

"Purple Rain" Prince
"Blame it on the Rain"  Milli Vanilli
"Raindrops keep falling on my head" BJ Thomas
"Singin' in the rain"  Gene Kelly
"I wish it would rain" The Temptations

Get a 5 minute shower timer.
3. Fix leaky toilets, showerheads and faucets
The average household can waste more than 10,000 gallons in one year.
Identify leaks in your fixtures and make repairs within 48 hours to minimize water waste.
OUTDOORS
1. Limit watering, following your Water Provider's Guidelines
We recommend two day a week watering, however, each water provider has different water guidelines.  Find out yours.
Best way to tell if you need to water is by testing.  To test your lawn, do the "screwdriver test."  Stick an eight-inch screwdriver into the ground.  If you can push it more than three inches into the ground, you don't need to water.
How much should you water?  This scheduler provides you with a customized schedule.
Water early in the day.  When the sun is out, water evaporates before it gets your plants.  Save 50 gallons each time you water.
Need more than two days of watering, consider installing a clothes washer to lawn graywater system.
Low water use and native plants require less water than the average lawn.  Save 9 gallons per day, per 1,000 square feet. Find Sacramento region appropriate plants.
2. Adjust sprinklers to reduce overspray and runoff
Minimize the amount of water that makes it way to impervious surfaces especially sidewalks and driveways.
Simple adjustments to sprinkler heads can make a big difference.  Learn how.
Save more than 40 gallons every time you water (and also stop fertilizers and pesticides from washing into the storm drain, which leads directly to our creeks, streams and rivers)
Use the Soak and Cycle method to reduce runoff.
3. Add 2 to 3 inches of organic mulch around trees and plants to reduce evaporation
Save 30 gallons each time you water per 1,000 square feet.
Mulch is like icing on a cake, because it keeps the soil moist the way icing keeps a cake moist.
Mulch slows evaporation, allowing water to sink into the soil, moderates soil temperature and breaks down into nutrients for plants.
Mulch includes organic plant material like leaves and wood chips and can be found at most hardware and home improvement stores.