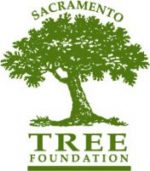 Do you LOVE trees? Do you get nutty over walnut trees? Weepy at the sight of a willow? Want to cuddle with a conifer?
At Be Water Smart, we want to make sure our urban forest stays with us for generations to come, even as climate change is projected to bring more frequent drought years.
We've partnered with our friends at the Sacramento Tree Foundation to provide some tips for efficiently watering your trees when the weather is dry.
Check out the pages and videos below, and be sure to visit sactree.com to learn even more about caring for trees!
Worried about your trees this summer? Grab a bucket – preferably one with a hole near the bottom. "Using a bucket is a great way to give trees—particularly young trees—the extra water they need, without wasting water," says Pamela Frickmann Sanchez, Education Program Manager for the Sacramento Tree Foundation. Read the full article here.
VIDEO: How to Give Young Trees the Water They Need Using the "Bucket Method"
Trees younger than 5 years old are most at risk during the hot summer months. To thrive, they need water delivered slowly and deeply, ideally using drip irrigation. When drip irrigation is not possible, trees need extra help. Learn the "bucket method" for efficiently watering young trees in this brief video produced in partnership with our friends at the Sacramento Tree Foundation.

How to water your mature trees: tips and video
Tips for Tree Care During Drought from the Sacramento Tree Foundation
We Need Trees, and Trees Need Water from the Sacramento Tree Foundation
Necisitamos Árboles y los Árboles Necesitan Agua Sacramento Tree Foundation
Helpful infographic from the California Urban Forests Council
Learn you can help your trees survive a drought in this brief video featuring sustainable landscape expert Cheryl Buckwalter.
Tree Watering Guidelines – The bucket method from the Sacramento Tree Foundation